ZionFire has various resources available for purchase for banner & flag makers and movement worshippers.
Some of the offerings are: ZionFire's Banners & Pageantry Course, Resource Packets, books and publications, patterns for flags, pennant kits, and more.
All these and much more are now available through our online store. Check out the
ZionFire Shoppe
Flag patterns available for $25
...Fire Flag, $275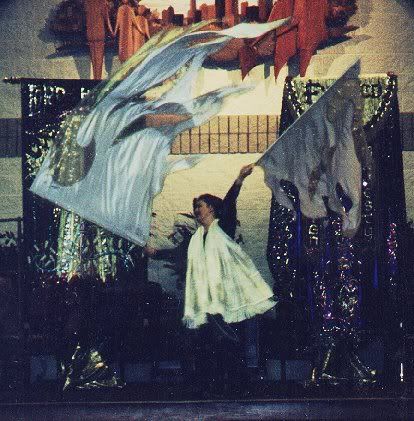 ...Wing Flags, $175/pair
---
...See our banners in the
ZionFire gallery
"Many Colors" is a symbol of the Father's favor, as illustrated by Joseph's coat of many colors. These streamers are for celebration!
Eight foot celebration streamers attached by swivels to a 18" goldtone wood dowel. Streamers are approximately 6 inches wide of jewel-tone sections of silk essence (polyester microfiber silk look-alike fabric). Side streamers are 1/4" gold mylar.
$35 each. Includes shipping.
Solid colors: $25 each
<URL url="http://zionfire.com/shoppe.php#streamers">
<IMG content="http://img.photobucket.com/albums/v708/hltpix/zionfire/streamerayu1.jpg">

<URL url="http://zionfire.com/shoppe.php#streamers">
Celebration Streamers
and other worship extensions and patterns can be purchased in our online store:
<URL url="http://zionfire.com/shoppe">
ZionFire Shoppe
---
...See our banners in the
ZionFire gallery
Users browsing this thread: 1 Guest(s)