<URL url="http://z4.ifrm.com/12415/42/0/p1055146/covt8NTHI.jpg">
<IMG content="http://z4.ifrm.com/12415/42/0/p1055146/covt8NTHI.jpg" height="300" img="450,300" width="450">
<URL url="http://zionfire.com/gallery.php#YHWH%20Covenant%20Names">
<IMG content="http://zionfire.com/images/gallery/Covenants400.png">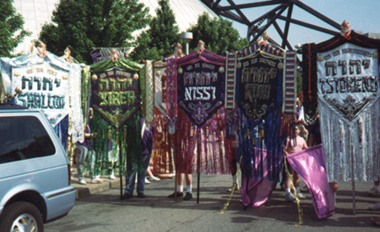 <--click for gallery
The Covenant banners are a set of 8 that share the same shape and are often used as a group. We have found that God has used this collection of the covenant names to minister healing, to prophesy to the house of Israel, and to make statements about his everlasting covenants.
They first debuted in Toledo Ohio for a prophetic conference. Since they have been used at many events including various
Night to Honor Israel
celebrations in Dallas, Kansas City, and Miami.
I made these banners during a time when we were very financially "challenged". There was no money to invest in them, and none was appearing at the time when I sensed it was the timing to build these banners. At this point, I had already made a number of banners and one of the things I always did after a project was to keep and sort the scraps of fabrics and trims. My friend and fellow banner visionary, Judy, came over and we began to pray and go through the scraps in my storage area and sort pieces that seemed to go together into stacks scattered around the room. As we finished the sorting, the Lord began to show us which stack went with each of the eight covenant names. This provision--already in the storehouse--became the set of banners you see in our gallery. They all share the same shape, and are differentiated by their name, colors, and particular symbolic designs on that shape.
In the making of this set, I only purchased one piece of fabric. The rest all came from the materials stash I already assembled. This amazing circumstance has always served to remind me in all areas of my life that God always has a provision for what he has asked you to do, even if it seems like there is no way you can manage it.[/url]
---
...See our banners in the
ZionFire gallery
Users browsing this thread: 1 Guest(s)