:zf: I made the fireflag over 20 years ago as almost an afterthought to the set of <URL url="http://www.zionfire.com/SevenSpirits.html">
Seven Spirits
banners. I had purchased way too much of the coral colored irridescent organdy that I had used in the flame inserts for the Seven Spirits. What to do with all that fabric? So I made a big (at the time I considered it huge and figured only a tall man could use it....ha ha! Now I consider it on the smallish side, as flags go.) and it was the first of it's kind that I know of. It had an incredible impact as it was waved over people in it's debut processional with the Seven Spirits in a tiny Methodist Church in Virginia. I remember the music--"All Consuming Fire".
<IMG content="http://img.photobucket.com/albums/v708/hltpix/zionfire/FireFlag.jpg">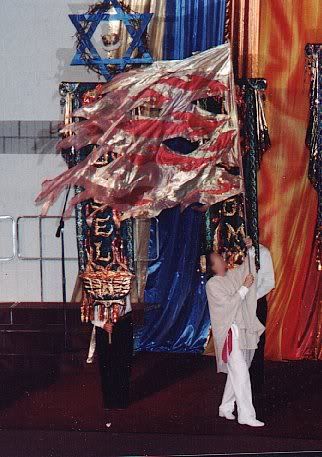 The wing flags were designed for a christmas pageant in which the choreographer wanted a flurry of "angel wings" for a particular number. The flags were put on 8 foot bamboo poles and waved individually. Later, it suddenly became obvious that they should be used in pairs, and so that is the way I now make them. They are one of my favorite flags to dance with.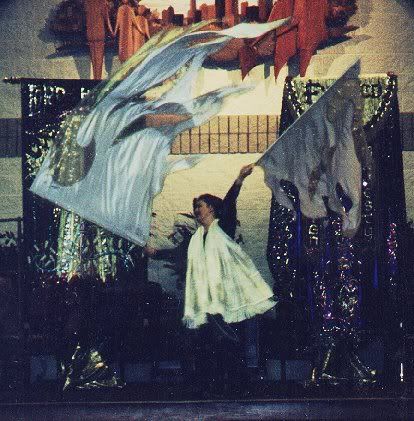 Flags and patterns can be purchased in the new
ZionFire Shoppe
---
...See our banners in the
ZionFire gallery
Users browsing this thread: 1 Guest(s)