---
ZF Fire & Wing Flags -
HelenaZF
- 04-22-2006
:zf: I made the fireflag over 20 years ago as almost an afterthought to the set of <URL url="http://www.zionfire.com/SevenSpirits.html">
Seven Spirits
banners. I had purchased way too much of the coral colored irridescent organdy that I had used in the flame inserts for the Seven Spirits. What to do with all that fabric? So I made a big (at the time I considered it huge and figured only a tall man could use it....ha ha! Now I consider it on the smallish side, as flags go.) and it was the first of it's kind that I know of. It had an incredible impact as it was waved over people in it's debut processional with the Seven Spirits in a tiny Methodist Church in Virginia. I remember the music--"All Consuming Fire".
<IMG content="http://img.photobucket.com/albums/v708/hltpix/zionfire/FireFlag.jpg">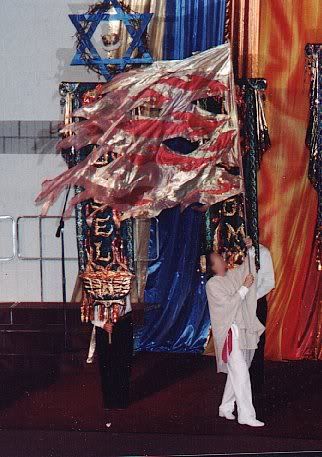 The wing flags were designed for a christmas pageant in which the choreographer wanted a flurry of "angel wings" for a particular number. The flags were put on 8 foot bamboo poles and waved individually. Later, it suddenly became obvious that they should be used in pairs, and so that is the way I now make them. They are one of my favorite flags to dance with.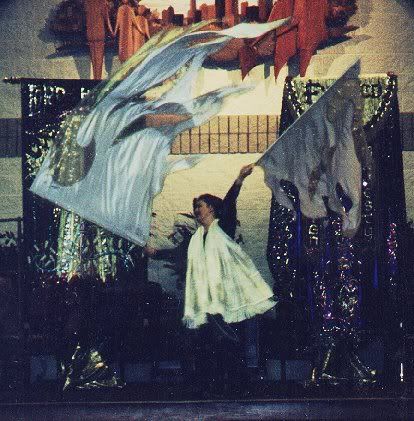 Flags and patterns can be purchased in the new
ZionFire Shoppe
---
ZF Fire & Wing Flags -
flaglady
- 04-30-2006
Oh wow! They are soooo stunning, brilliant, wonderful, beautiful, impressive ...... aren't there any more superlatives I can think of? They all apply!
S'funny, someone was asking me recently if I used any 'special' clothes for when I'm flagging and though I have some that I keep only for that, they're really just ordinary clothes with tops that have a bit of sparkle on them. Trouble is, I'm a
big
lady and my clothes tend to be those I dislike least rather than what I'd like to have. Perhaps I should have a go at making my own.
Love the white stuff but I think it would be a bit too much for someone of my proportions!! What do you think, Helena? Any suggestions on that?
---
ZF Fire & Wing Flags -
HelenaZF
- 04-30-2006
Thank you! I'm always pleased when other worshippers find the flags beautiful. Beauty and glory speaks it's own message of the Kingdom, doesn't it?
Garmenting is a HUGE issue, in my estimation.....it's all part of the visual message we bring. I am not a small woman either, and it is a definite challenge to find something that is graceful, flattering and also speaks a message. I do tend to make a lot of my ministry garments. I'm planning a series of threads on that subject. Waiting for Dean to do some scans of pictures for me so I can begin to develope the presentations.
One thing that I have found works well for just about any problem body shape/type is a poncho-type garment we call a dance oval. You can see a variation of one on the man carrying the fireflag in the pictures above. It skims over the body, and adds it's own graceful movement to the choregraphy. Sometimes I'll add fringes or other things that also have a movement of their own as well. I'll be showing several versions and give some ideas in the upcoming garment series.
In our church, we use a white dance oval, and a scapular-type overlay (kind of like a long tunic, for the non-liturgical among us). I like using somekind of overlay with the dance oval. The scapular gives the sense of a slim body shape
under
the voluminous oval. The oval has an opening for the head and is tacked at the sides to form an opening for the hands to go through. That keeps it in place while you are dancing or flagging.
At first, we thought the fabric would get in the way of flagging, but we've found that it causes very little problem.
So that's one thing you might explore.....
Keeping some sparkle around your face.....say some spectacular yoke designs paired with dark, fluid fabrics that do not cling to the body would be another suggestion. The white/gold tallit I am wearing around my neck in the wingflag picture uses another visual trick....it calls attention to itself, and my simply dark background garment is not the focus point for the observer. It was actually a functional part of the the garment, as I had danced with the tallit in the early part of that piece that was captured in that photograph.
---
ZF Fire & Wing Flags -
HelenaZF
- 05-02-2006
Ah, this should help: Here's a picture of me dancing with flags in the dance oval.
[attachment=6]
More on the dance oval here:
https://zionfire.com/forum/showthread.php?tid=232
These pennant flags are a simple set of red triangles with a couple of lamé ribbons attached. I use them to express joy, war, and praise.
---
ZF Fire & Wing Flags -
flaglady
- 05-10-2006
Hmmm! Penant triangles -
that's
an idea!
---
ZF Fire & Wing Flags -
HelenaZF
- 06-30-2006
Yes....the triangle shape is a good one for flags because it moves gracefully.
I tend to not use many square or rectangular type flags for that reason....most of my designs are free form or shapes that have tapering ends in someways, like a swallow-tail, for graceful movement.
The rectangular shape is best if you want to get a good SNAP! though....and I've found that acetate lining fabric makes the best and loudest cracking sound.
---